Thanks so much for visiting our website Sport Speaker Europe. I would love to tell you some background history about the development of our Sport Speaker concept in the last years. Have fun reading!
Since 2014
We have been around in The Netherlands since 2014. In 2014 our company Mennegat Trading BV started to distribute a new brand from Belgium. This brand contained several loudspeakers for outdoor use and this is where our journey started. 
Our company Mennegat Trading BV is a Dutch distribution company of professional audio products. We import several brands from all over the world to The Netherlands, which are being sold to professional audio installers and system integrators. Most of these products are implemented in installations for background music in restaurants, hotels, bars, offices, warehouses, manufacturing facilities, canteens, but also outdoor applications like sports fields. 
Passion for soccer
Mennegat Trading BV exist out of 2 people: Herjan Mennegat and Ferdi van den Berg. I (Ferdi) have been raised in a soccer family. My brother played Ajax youth teams for over 8 years and I grew up near the old stadium De Meer (which now has been replaced by the Johan Cruijff Arena). At the age of 12 I could join the Vitesse Academy in Arnhem. But after 2 years I had to give up because of illness. 
After a recovery I joined my old amateur squad again and found back pleasure in soccer. At the age of 15 I could make my debut in the first squad, which was playing the second highest division amateur level.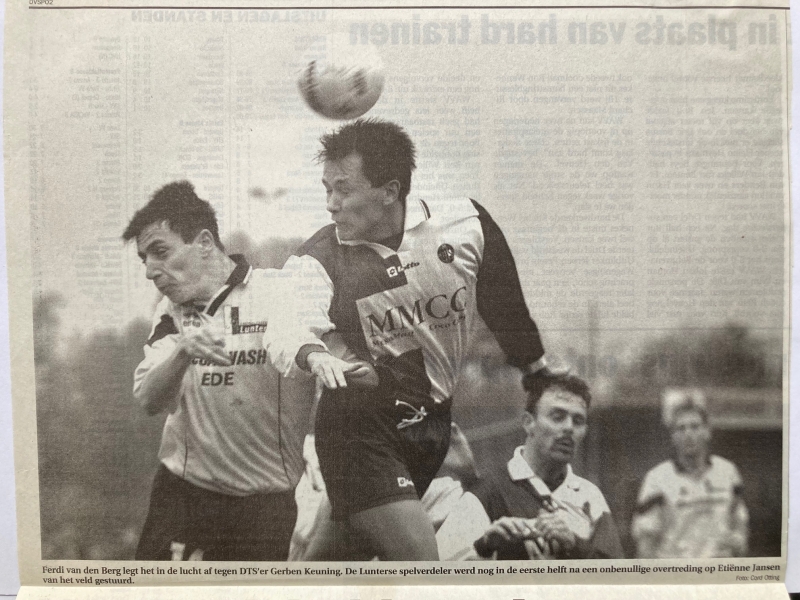 I remember myself walking on the pitch just before the game with the song 'Eye of the Tiger' pumping by the shrill horn speakers. Unless the sound quality it always gave me goosebumps and I really felt the energy of the game. 
Read more on our About Us page!
When soccer and audio met
Many many years later in 2006 I started to work with professionel audio products. My employee was a webshop in audio products and here I learnt everything about audio technology, as well as installation purposes. In 2014 Herjan Mennegat asked me to join his company, because of a new distribution opportunity, as described earlier on. 
And this is where soccer and audio met each other. 
First audio project on sports fields
Few of our customers in The Netherlands installed paging systems on sports fields. Very simple, straight installations based on 100V audio technology. We noticed sports fields were mainly equipped with traditional 100V loudspeaker horns.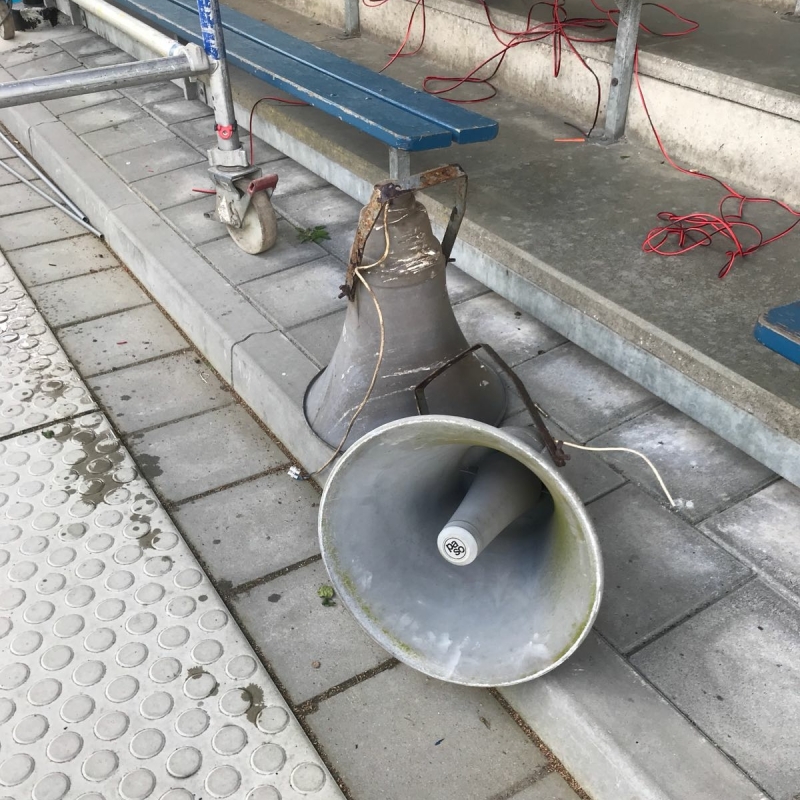 Example of a old fashioned 100V horn loudspeaker
In the years after we dismantled hundreds of these 100V speakers and replaced them by another one.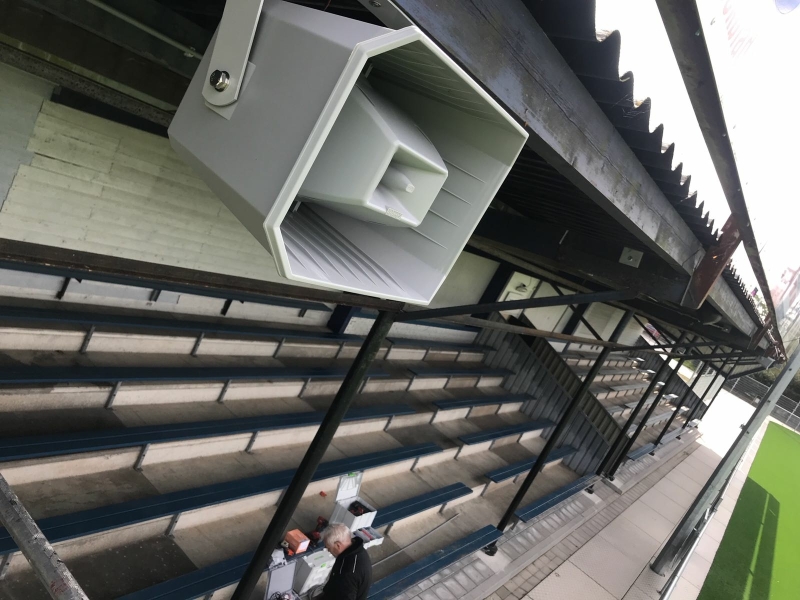 Outdoor 2-way 100 Volt horn speaker for music
This was the best horn speaker we could offer in that period.
Not satisfied with the sound of music
But we were not completely satisfied with the sound. Though the paging announcements were quite ok, music still sounded shrill. It did not gave that extra experience to the pitch as we would have liked. 
We decided to search all over the globe for a better solution and we ended up in The United States.
Sports facilities in the USA are huge. Think about sports clubs, like baseball and American Football, but also these enormous University campuses. Sports is a big deal and a real event. An event with music, experience and a show with cheerleaders or performances. 
After a while we found a new line up with outdoor speakers in the USA and we decided to bring these to The Netherlands. 
A new era for sound at sports fields
It took us some time to find the right model, but after lots of demo's and installations we were convinced of the right loudspeaker product.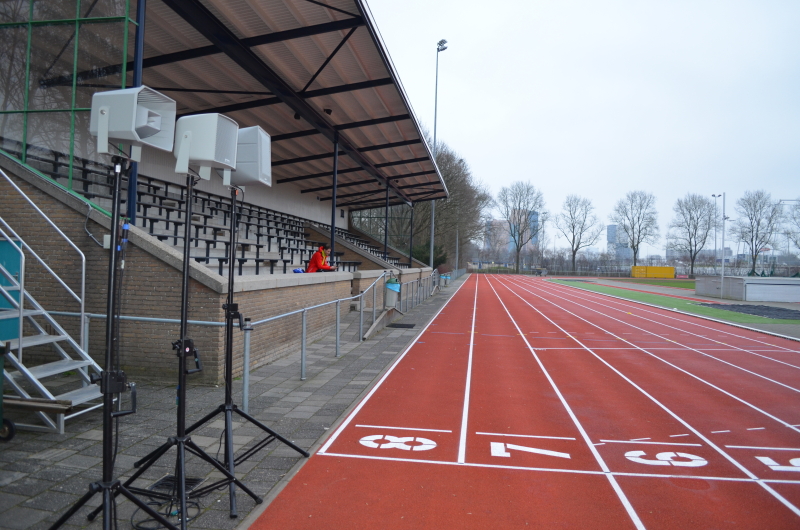 Example of one of the loudspeaker comparison we did last few years
After years of testing we could finally say we found the right speaker and we deployed many installations together with our audio installation partners.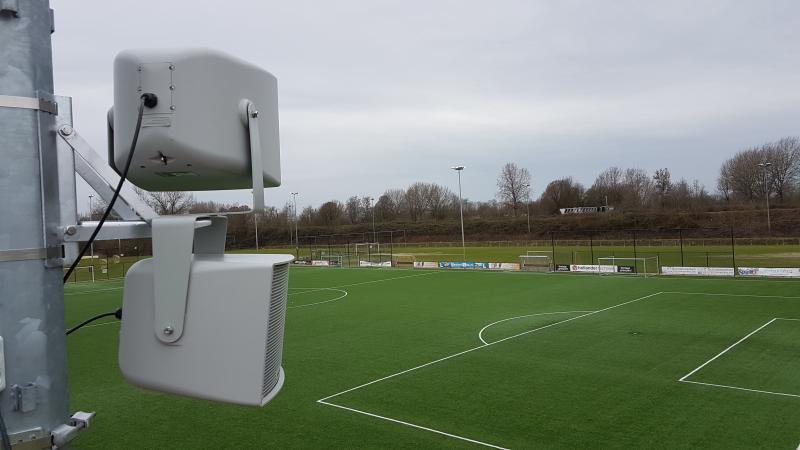 Example of a outdoor audio system which we installed in The Netherlands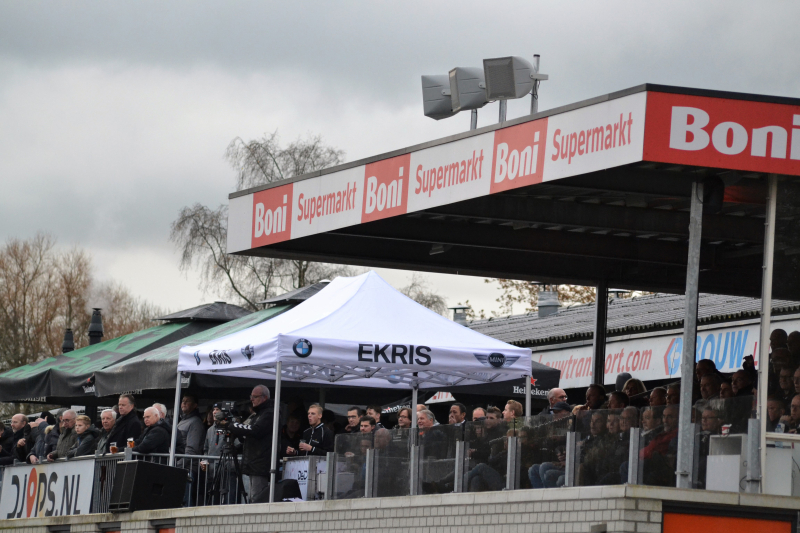 Example of a installation where 3 Sport Speakers are mounted on the grandstand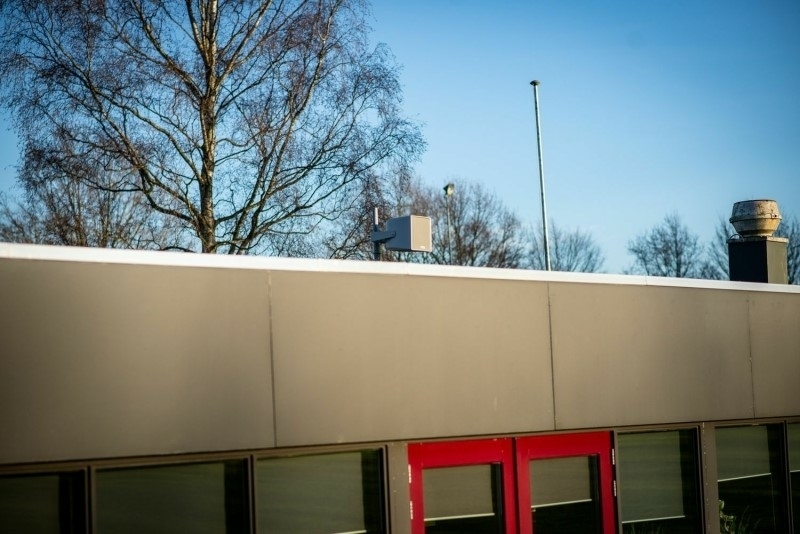 Example of a installation with a outdoor loudspeaker mounted on top of the canteen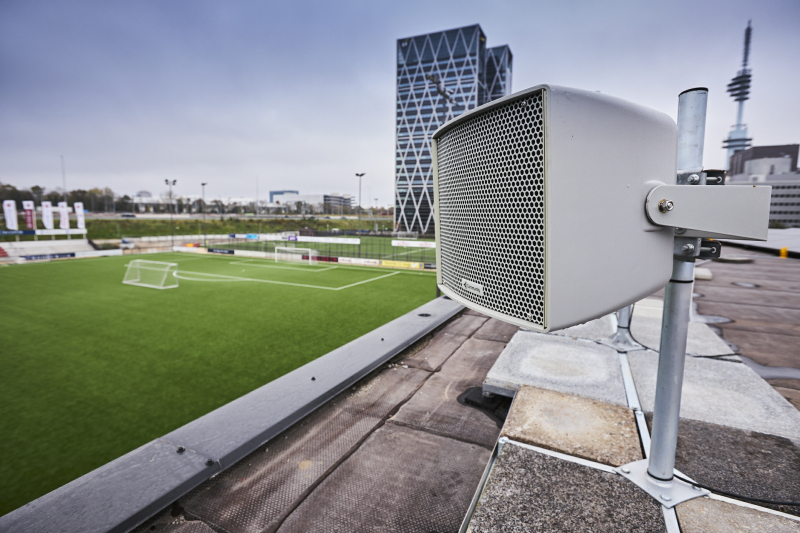 Example of a Sport Speaker install in the middle of Amsterdam at AFC.
Searching for simplicity in control
We found our Sport Speaker!
But now, we had to find the perfect way to control the system.
Modern, future-proof, easy to use and durable, which could last for a decade. 
We learned volunteers working at sports clubs are not technical people. They work for their club because they feel passionate. They feel connected. They want to contribute and create an atmosphere for the players to perform a good result. 
We noticed loads of installations with too many knobs, faders, sliders and too many controls.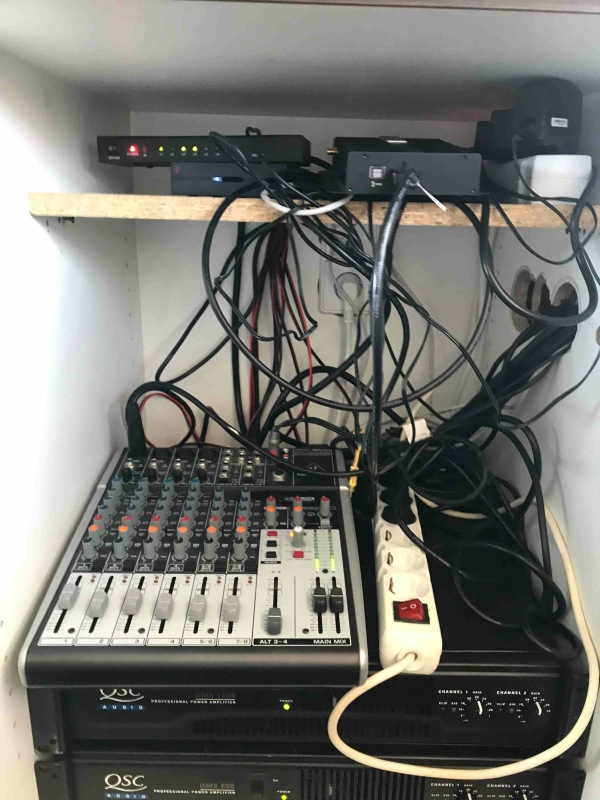 This is what we think is complex!
So many of the installs we removed were looking like this. 
Touchscreen control and Bluetooth streaming
We noticed a strong need to be able to control only the functions which are really required. Like volume control and music choice. So we went searching for a system which we could adjust according to our needs.
After 2 years of testing lots of different systems we found the perfect audio processor which is capable of everything we wanted.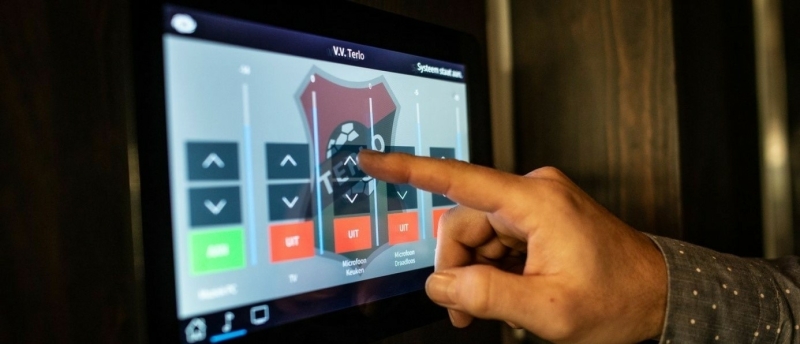 Touchscreen control
Touchscreen control
The benefits of touchscreen control are:
+ Customize the control
+ Simple overview
+ Easy to understand
+ Futureproof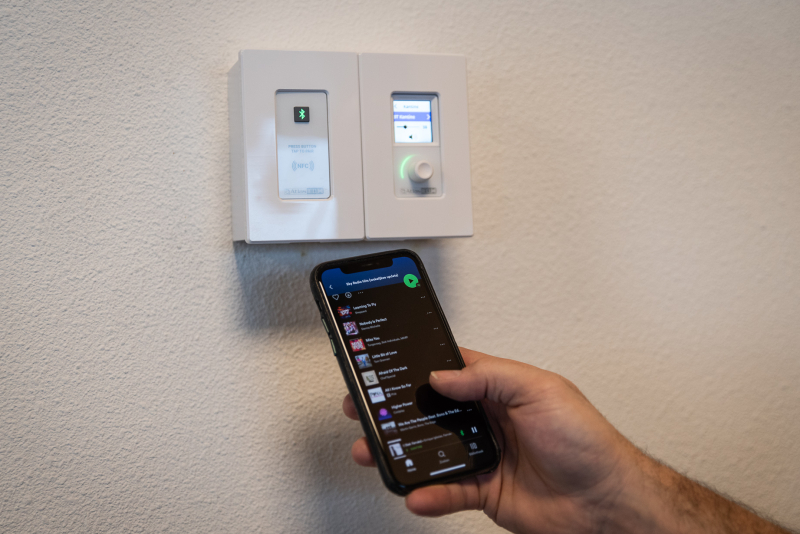 Bluetooth streaming
Play your own playlists
Before and after the game and during the break it's all about experience. You want to play music that suits your team, your club, your village or your country. With Bluetooth you can stream any playlist from any device.
Besides this you have the freedom to walk away from the system, which means you don't have to be in the room where the audio equipment is all the time. How fun is that!
Another unique feature
I mentioned it for a couple of times now.
Experience.
What do you feel when you watch the Champions League? What do you feel when your favourite team scores this important goal? 
We felt the need to include a fun, unique feature.
Meet our Goal Button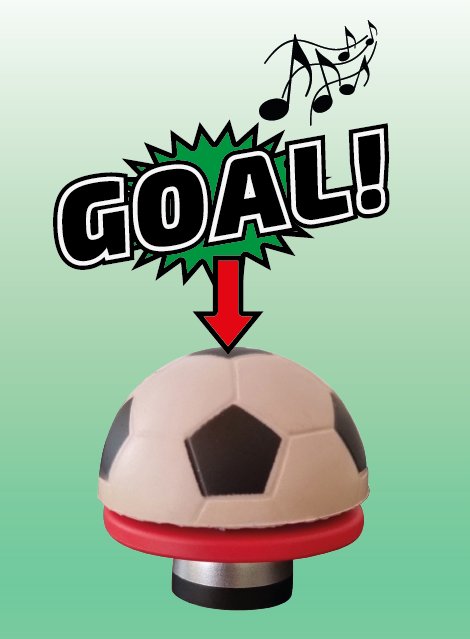 Our Goal Button plays a jingle as soon as you hit the button!
How cool is this! 
We can add your own special jingle to the system. So whenever your club scores a goal, you press this button and your own special jingle will sound all over the sports field!
Ready to ship global
Our journey brought us to this very special moment where we decided to launch our concept internationally. 
In July 2022 we released our English website. 
We will translate pages in German and Spanish too in the next few months. 
We have invested in special packaging so we can ship our concept on a pallet worldwide.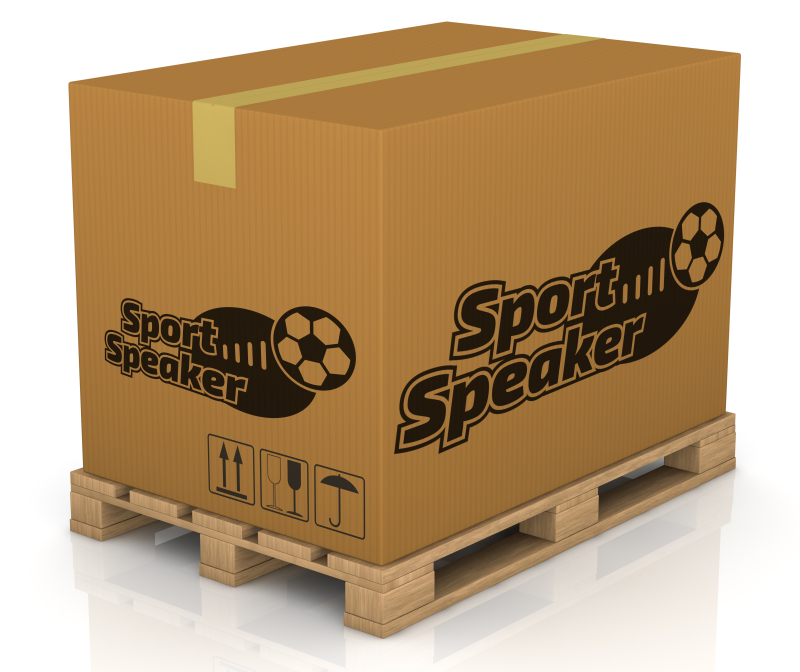 This is how your Sport Speaker order will arrive.
We have tested several ways to ship our items, but this is secure and safe. 
Curious what you will find in this box? 
Check our Sport Speaker Solution page and we will show you everything you need to know!
So thankful for the first inquiries
2 weeks after the release of our website we already received the first questions and inquiries. 
We can't wait to deploy our concept worldwide! 
And we can't wait to provide a wonderful experience on every soccer field all over the globe.
We are happy to communicate with you about every question you have. 
Thank you very much for reading this blogpost.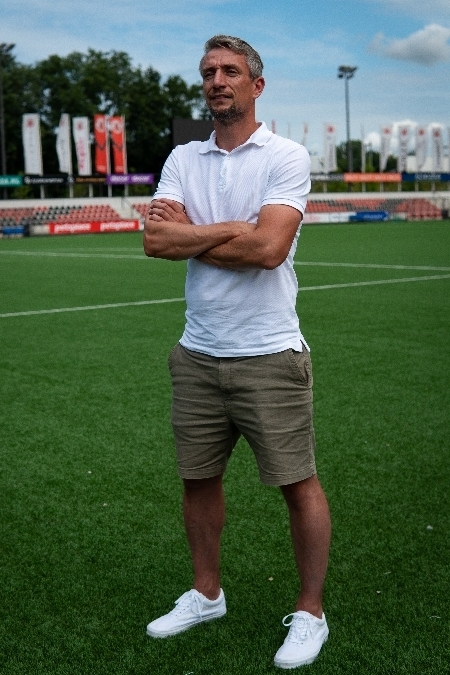 Ferdi van den Berg
Founder Sport Speaker Europe